Kobe Steel Ltd. (Kobelco)
Kobe Steel Ltd. (Kobelco) is a manufacturer and supplier of complete polymer finishing lines for polyolefin plants (PP, HDPE, LDPE, LLDPE).

Such finishing lines consist of a mixer or an extruder, a melt pump, a screen changer and a pelletizer (pelleter).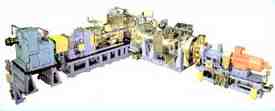 The mixer or extruder is either a continuous mixer using a set of rotors, or a single or twin screw extruder.
The melt pump (gear pump type) is used for building up pressure and pumping the polymer melt towards the screenchanger and underwater pelletizer.

At the underwater pelletizer the melt is frozen and cut into pellets using a die plate and rotating knives.

Mercatel is Kobe Steel's European representative regarding after sales service's and improvement.